Lefties rejoice! The new Circle Pad Pro is coming this year.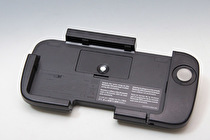 To accompany Nintendo's newly designed handheld, a new version of the Circle Pad Pro will be released later this year.
The original device added, on top of some extra weight and mass to the 3DS, a second circle pad for games that required a little extra aiming precision. It also granted left-handed gamers the ability to play Kid Icarus Uprising without conforming to the awkward right-handed control scheme.
As for the new model of the peripheral, no news besides a "2012 release" has been announced, and as of the time of reporting, there's no confirmation that it will be sold outside of Japan. Hopefully we'll have some pictures of the new device soon.