Our third trip to PAX East for a live podcast panel was the best yet. Listen to the whole thing right here!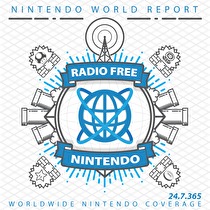 Subscribe via iTunes (Please rate and review, too!)
Download the audio track from the panel video (AAC) (MP3)
Special thanks to Jared Rosenberg for the excellent video footage!
These live panels at PAX East have become a huge annual tradition for Radio Free Nintendo, and we were delighted to return to Boston for a third Meatspace podcast with a small but devoted audience of listeners... plus the many more of you waiting at home for this recording! *Note: There are a lot of variables in this kind of setting, so please understand that the audio is not perfect, and you may need to adjust the volume from time to time.
Joining the three panel regulars this year is our friend Guillaume Veillette from Negative World, who has acquitted himself admirably on a couple recent podcast episodes and did another great job in person. After some quick intros and a special surprise from James, we revisit last year's Wii U speculation round and follow it up with a more realistic countdown to the system's launch. It's a brief conversation by RFN standards, but we manage to tackle important issues like our most anticipated features, repairing the broken messages of last E3, and how to get third-party publishers to stick around this time. With just over six months before launch, very few websites or podcasts are giving much thought to Wii U... okay, just leave it to us experts!
The second half (or two-thirds, really) is devoted to Q&A, as always. We got some fantastic questions from the live audience, which included both long-time fans and RFN neophytes who just stumbled into the panel. We were pleasantly surprised when the PAX Enforcers let us run 15 minutes over the allotted time, due to the next panel being canceled. All in all, it was a wonderful opportunity to hang out with Nintendo fans and each other, and we hope you'll enjoy this official recording!
Before you forget, be sure to vote in the RetroActive poll! The deadline is Thursday, April 12, and we will play and discuss whichever game comes out on top. You can also send questions and comments for the next regular episode of RFN! And oh snap, you can buy your very own RFN t-shirt that made its public debut at the PAX East convention. All sales benefit this very website and podcast, so buy several!
This episode was recorded by the PAX East Enforcers and was edited by Jonathan Metts.