The summoning circle worked, we have Houndoom.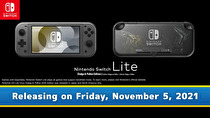 New details for Pokemon Brilliant Diamond and Shining Pearl were unveiled ahead of the duo's November 19 launch in today's Pokemon Presents presentation.
The original "Underground" has been expanded to the Grand Underground, which will feature "Pokemon Hideaways" that allow for battle and capture of Pokemon including ones that were not in the original Diamond and Pearl Pokedex based on the statues in the player character's base.
Pokemon will be able to follow you for the entirety of these games: whether they have to be in your party or not has not been disclosed. This ability was present in the original games, but only in the "Amity Park" area.
The now-traditional clothing customization for your player character will be included.
Super Contests have now been modified to include more rhythm game elements.
A "Union Room" will allow for real-time interaction between trainers (battles, trading), though Ranked Battles will continue to take place in Pokemon Sword/Shield.
A themed Switch Lite will be available on November 5, with decorations of mascot legendaries Dialga and Palkia: it is modelled on a DS Lite released in 2006.
An early purchase bonus (available until February 21, 2022) will offer players the mythical Pokemon Manaphy: it could only be obtained in the originals by completing a quest in the 2006 spinoff Pokemon Ranger.
Digital preorders will open shortly.