Almost coming faster than we can write them up.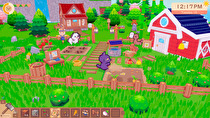 The second show of the day was the Wholesome Direct, with the following announcements for Switch:
Kitten farming simulator Snacko added a Switch version and will launch next year.
Skatebird will feature optional simplified controls for accessibility when it launches on (as previously annunced) August 12.
Here Comes Niko, a "3D platformer for tired people", announced a Switch version - no release date is available.
Mythic Ocean, an adventure game set under the sea, was revealed for Switch as well.
"Lo-fi" narrative adventure Button City will be out later this year.
Letter writing game "Letters", in which you fill in the blanks of the notes with your own personality, will be out on Switch.
Beasts of Maravilla Island, the photography sim shown last week at the Guerrilla Collective, is available now in North America.
Puzzle platformer Hoa confirmed a release date of August 21.
Bird mail game KeyWe showed a new trailer and an August 31 launch date.
Dordogne is an adventure about rebuilding memories of childhood summers, and will be out later this year.
Repair an airship in a silent town in Tasomachi: Behind the Twilight, published by Playism and coming in 2021.
Dinosaur village simulator Amber Isle was revealed for Switch with no release date.
Turn a rundown shack into a bed and breakfast - as a bear - in Bear and Breakfast, which does not have a release date.
The newest game from The Quantum Astrophysicists Guild (Tumblestone) is Freshly Frosted, a puzzle game centered around a donut factory. It will be out sometime this year.
The wholesome adventure game Kokopa's Atlas was shown off and will come to Switch (no date given).
Non-violent deckbuilder KreatureKind will be out in "2021, probably" according to the developer Valiant Games.
Studio Elan revealed their project Please Be Happy, about a fox-girl who tries to discover herself, will come out on Switch in 2021.
3D action RPG Rainbow Billy: Curse of the Leviathan sees Billy and his companion try to restore color to an island rendered monochrome by a leviathan. There was no date provided.
Due this summer, Seasonspree is a life sim centered around a character who can change the seasons by walking.
The Magnificent Trufflepigs is a first person treasure hunting game set in a small English village, coming to Switch soon and featuring the voice talents of Arthur Darvil (Doctor Who, Legends of Tomorrow)
Witchery Academy, a life sim set in the titular school of magic, is reported as "coming soon".
Magical adventure Woodo showed a new trailer.