Golden Week held up the confirmation. (UPDATED)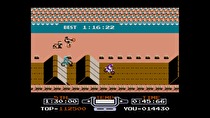 UPDATE MAY 7: Nintendo has confirmed the games below will come to the lineup on May 15. Original story follows.
It looks as though May's NES lineup for the Switch Online app will feature plenty of climbing and riding.
Although no video confirmation for the second Wednesday in May has been revealed, Vooks found a listing on Nintendo of America's page for the NES list which includes under Upcoming Games:
Donkey Kong Jr
Clu Clu Land
Vs Excitebike
Donkey Kong Jr and Clu Clu Land are both early/black box titles of the NES, while Vs Excitebike is a version of the bike racer originally released for the Famicom Disk System before releasing on the Wii U's Virtual Console in 2015.