Sports, art, and... murder one.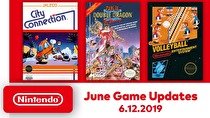 The June lineup of NES games for Switch Online will hit the road, a ball, and a lot of thugs.
June's additions, due on the 12th, will be Volleyball (Nintendo), City Connection (Jaleco), and Double Dragon II: The Revenge (Technos/Arc System Works). Both Double Dragon II and City Connection have releases as part of the Arcade Archives.