Take your frustrations out on Glass Joe.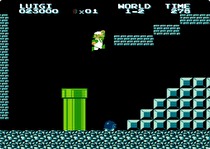 This month's Switch Online games will feature dreams and absolute nightmares.
Punch Out! Featuring Mr. Dream, Super Mario Bros: The Lost Levels, and Hudson's space shooter Star Force will be added to the app on April 10. There will also be SP games to be announced the day of.
Although Super Mario Bros: The Lost Levels was not originally released outside Japan (where it was Super Mario Bros. 2), the game was sold in its NES form on all three Virtual Console services. As a result, this is the first month since December in which all territories will receive three games.