A fine Revenge of the Fifth to you all.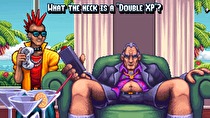 So are the veeps in charge yet at large at THQ Nordic yet?
Nope, which is why I won't be buying Saints Row The Third this week. It's a shame, I'd really love to support what should have been the GB GotY for 2011, but not until all of the executives who don't know how to use Google get sacked.
What does that open the door for, then?
Shakedown Hawaii is finally out, and given how beloved vBlank's prior game is on this here website it's on my radar. There's a bit of buzz from some of the pub regulars about Masquerada and For The King, and Meow Motors is probably the best animal-based racing game coming out this month. Unfortunately, we have a Kemco Alert (tm) and Europe has a double THQ Nordic alert, plus we have a content warning for a Lovecraft-based game.
Japan still recovering from the dawn of a new era?
Yes, although a high number of shadowdrops this week wouldn't surprise me, both there and for the rest of us.
North America
Switch Retail
Saints Row: The Third (US$39.99/C$50.39: Friday (THQ Nordic))
For The King ($24.99/$31.49)
Shakedown Hawaii ($19.99/$24.99: Tuesday)
Switch eShop
Masquerada: Songs and Shadows ($19.99/$24.99)
Lovecraft's Untold Stories ($14.99/$18.99: Friday)
Blazing Beaks ($14.99/$18.89: Friday)
MachiKnights - Blood Bagos ($14.99/$18.89)
Meow Motors ($14.99/$18.89: Wednesday)
Frane: Dragon's Odyssey ($12.99/$17.99)
Reverse Crawl ($12.99/$16.37: Friday)
Puyo Puyo Champions ($9.99/$13.49: Tuesday)
European Conqueror X ($9.99/$12.59: Tuesday)
Lost Artifacts: Soulstone ($9.99/$12.59)
Tales from Space: Mutant Blobs Attack ($9.99/$11.99: Friday)
Ascendance ($7.99/$9.99)
OTTTD: Over The Top Tower Defense ($7.99/$9.99: Monday)
My Big Sister ($5.99/$6.99: Friday)
Monster Puzzle ($4.99/$6.29)
Car Mechanic Manager ($3.99/$5.03: Tuesday)
Dragon Snakes ($3.99/not releasing)
Dragon Pinball ($2.99/$3.77: Friday)
Switch Archives
Ninja Gaiden ($7.99/$9.87)
Sales and Price Drops
Highlights: NIS America and Aksys have Golden Week sales ending Tuesday, Attack on Titan 2 is on sale until the 16th in both regular and deluxe forms. Spreadsheet
Europe
Switch Retail
Super Dragon Ball Heroes: World Mission (€59.99/£49.99)
Saints Row: The Third (€39.99/£34.99: Friday (THQ Nordic))
Darksiders: Warmastered Edition (€29.99/£26.99 (THQ Nordic))
For The King (€24.99/£19.99)
Shakedown Hawaii (€19.99/£17.99: Tuesday)
Switch eShop
Masquerada: Songs and Shadows (€19.99/£17.99)
Blazing Beaks (€14.99/£13.49: Friday)
Lovecraft's Untold Stories (€14.99/£13.49: Friday)
Meow Motors (€13.49/£12.19: Wednesday)
Frane: Dragon's Odyssey (€12.99/£11.69)
Reverse Crawl (€12.99/£11.69: Friday)
MachiKnights - Blood Bagos (€10.99/£9.89)
European Conqueror X (€9.99/£8.99: Tuesday)
Tales from Space: Mutant Blobs Attack (€9.99/£8.99: Friday)
Puyo Puyo Champions (€9.99/£7.99: Tuesday)
Lost Artifacts: Soulstone (€8.79/£7.89)
OTTTD: Over The Top Tower Defense (€6.99/£5.99: Monday)
Ascendance (€5.99/£5.99)
My Big Sister (€5.99/£5.99: Friday)
Monster Puzzle (€4.99/£4.49)
Car Mechanic Manager (€3.99/£3.59: Tuesday)
Dragon Snakes (€3.99/£3.59)
Dragon Pinball (€2.99/£2.69: Friday)
Switch Archives
Ninja Gaiden (€6.99/£6.29)
Japan
Saints Row The Third (¥4850)
Mars or Die (¥2349)
The Swords of Ditto: Mormo's Curse (¥2100)
Frane: Dragon's Odyssey (¥1296)
Zombie Night Terror (¥1200)
Venture Kid (¥980)
Ninja Gaiden (¥823)
Bird Game+ (¥500)
Jack 'n Jill DX (¥499)
Avenger Bird (¥300)