This'll need several Brinks trucks to carry.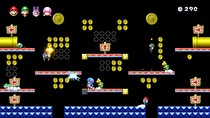 Nintendo has released their earnings for the 2018 fiscal year (April 1, 2018 -> March 31, 2019) at the close of business today in Japan. This report includes figures for the 4th fiscal quarter (January 1 -> March 31) as well.
All monetary figures reported in yen, with comparisons to the US dollar based on a market rate of $1 = ¥111.812 provided for comparison only.
Financial Results
Operating income: ¥29.671bn for Q4, ¥249.7bn for the year (~$265m/$2.23bn)
Ordinary net income: ¥37.032bn for Q4, ¥277.3bn for the year (~$332m/$2.48bn)
Revenue: ¥203.205bn for Q4, ¥1.2tn for the year (~$1.82bn/$10.7bn)
Digital sales: ¥34;6bn for Q4, ¥118.8bn for the year (~$309m/$1.06bn)
Mobile revenue: ¥12.7bn for Q4, ¥46bn for the year (~$113.6m/$411m)
The revenue and profit numbers are the best Nintendo has seen since fiscal 2009.
Hardware Sales
Switch: New LTD total (shipped) is 34.74m, which is based on Q4 shipments of 2.47m and total shipments for the year of 16.95m. This is short of Nintendo's original 20m goal by 3.05m and just misses their 17m goal by 50k. Switch has now passed the N64 (32.93m), with the next internal target being the Super Famicom/SNES which it needs to ship another 14.36m units to hit.
The 3DS family's LTD is now 75.08m, for Q4 shipments of 240,000 and full year shipments of 2.55m.
Total software
Nintendo shipped a total of 118.55m units of Switch software in the fiscal year, exceeding their revised goal of 110m units.
Fiscal 2019 Guidance
Nintendo's initial estimates are an operating profit of ¥260bn, 18m units of Switch hardware, 1m 3DS units, and 125m units of Switch software in the fiscal year (April 1 to March 31, 2020).
Software Performances
For software debuting in the corner, New Super Mario Bros U Deluxe shipped 3.31m copies while Yoshi's Crafted World shipped 1.11m units.
Among prior releases:
Super Smash Bros Ultimate: 1.77m in the quarter, LTD 13.81m
Pokémon Let's Go Pikachu / Eevee: 630,000 in the quarter, LTD 10.63m
Mario Kart 8 Deluxe: 1.67m in the quarter, LTD 16.69m
Super Mario Odyssey: 680,000 in the quarter, LTD 14.44m
The Legend of Zelda: Breath of the Wild (Switch only): 1.09m in the quarter, LTD 12.77m
Super Mario Party: 1.1m in the quarter, LTD 6.4m
A full list of million sellers is in the gallery below.
Release Schedule Revelations
Super Mario Maker 2's release date was announced last night, and it is included in the schedule printed in the gallery.