Did saving all the energy for the end really help Nintendo?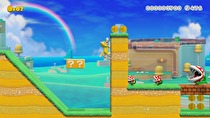 At the close of the Japanese business day earlier today, Nintendo released their financial results for the first fiscal quarter of the 2019-20 fiscal year.
All monetary figures reported in yen, with comparisons to the US dollar based on a market rate of $1 = ¥108.571 provided for comparison only.
Financial Results
Operating income: ¥27.428bn for Q1, down ¥3.107bn year over year (~$253m/-$28.62m)
Ordinary net income: ¥22.232bn for Q1, down ¥21.634bn YOY (~$204.8m/-$199.2m)
Revenue: ¥172.111bn for Q1, up ¥3.954bn YOY (~$1.585bn/$36.418m)
Digital sales: ¥30bn for Q1, up ¥12.1bn YOY (~$281.8m/$111.4m)
Mobile revenue: ¥10bn for Q1, up ¥1bn for the year (~$92.1m/$9.2m)
Nintendo attributed the dip in income to foreign exchange losses and "other factors".
Hardware Shipments
Switch: 2.13m for the quarter, new LTD 36.87m, needs to ship 12.23m to pass the SNES/Super Famicom.
3DS: 200,000 for the quarter, new LTD 75.28m.
Software Movement
Super Mario Maker 2: 2.42m (in 3 days)
Super Smash Bros Ultimate: 920k, new LTD 14.94m
Mario Kart 8 Deluxe: 1.2m, new LTD 17.89m
The Legend of Zelda: Breath of the Wild: 840k, new LTD 13.61m (Switch only)
Super Mario Odyssey: 500k, new LTD 14.94m
Pokémon Let's Go Pikachu/Eevee: 350k, new LTD 10.98m
Super Mario Party: 590k, new LTD 6.99m
New Software information:
Aside from existing E3 announcements, "the sequel to The Legend of Zelda; Breath of the Wild" has joined Bayonetta 3 and Metroid Prime 4 in the TBA section of their release list.