The E3 show will probably look familiar.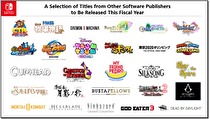 Following the release of the fiscal year's financial results earlier today, Nintendo held their quarterly investor meeting today.
Among the items in the presentation (slides available here (PDF link):
Nintendo is keeping to their recent E3 plans again this year; no full theatre-based presentation, a video showing games scheduled for release during the fiscal year, and the previously announced world championships for Splatoon 2 and Super Smash Bros. Ultimate. More details on that will be given soon.
As of the end of the fiscal year, Switch Online had 9.8m members (including family plan members, but excluding trial users), and 2.8m people had played Tetris 99. More Nintendo Entertainment System/Famicom games will be added, but other systems (such as SNES/Super Famicom) were not listed.
New Super Mario Bros U Deluxe sold to consumers more than a million units in its first two weeks of sale, and cumulative sales are now over 2.5m copies since its January 11 launch. Yoshi's Crafted World is also selling "faster than previous games in the series", and attracting a large female audience.