Now you see why the difficulty curve is more of a gentle slope.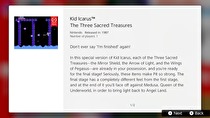 This month's NES Online update includes the ability to be just a little godlike.
In addition to the previously announced updates, today's update added a SP version to Kid Icarus. The special version provides the game's Three Sacred Treasures - Wings of Pegasus, Arrow of Light, and Mirror Shield - and starts out in the final stretch before Medusa.