The gorgeously animated, brutally difficult shooter is a Microsoft exclusive no longer.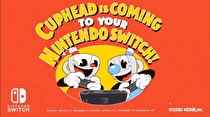 Today's Nindies Showcase was kicked off by the announcement that Studio MDHR and Microsoft are bringing the award-winning indie shooter Cuphead to the Switch. Available for pre-purchase later today, Cuphead will be officially released and frustrating Nintendo players worldwide on April 18th.
After playing for a few hours, you may want something a little stronger than milk in your cup.