Listen to my story... of why the week's priciest game caused a day's delay.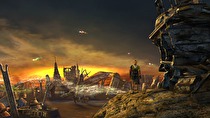 Man, Jersey traffic sucks. Anyway, what's up for this week?
The big ones - both in file size and play time - fall to Final Fantasy X/X-2 HD, which mark the beginning of OH GOD ALL OF THE RPGS for Switch that won't abet until the calendar flips over. Note that the eShop version includes both games, but if you get X on a card (at least in NA) X-2 is considered DLC. There's also Cuphead, My Time at Portia, Katana Zero, and Truberbrook this week in terms of games that will stretch your wallet. Or in Cuphead's case, your sanity.
You forgot one.
Right, Our World is Ended. Technically the most expensive game of the week, so I'm glad I had the chance to review it... as to whether it's worth the coin, the review is forthcoming. Other things worth considering are Kairosoft's Japanese restaurant sim, and a couple of games popular in smaller circles in Hell is Other Demons and You Died (But A Necromancer Revived You).
Anything big in foreign markets this time?
Uh, remember how we have a Kemco alert? Well, there's one that's louder: LANGRISSER ALERT. At least it's a remake of the good ones...?
North America
Switch Retail
Our World Is Ended (US$59.99/C$75.59)
Final Fantasy X/X-2 HD ($49.99/$59.99: Tuesday)
My Time At Portia ($29.99/$37.79: Tuesday)
Switch eShop
Truberbrook ($29.99/$37.79: Wednesday)
Construction Machines Simulator ($29.49/$37.16: Friday)
Cuphead ($19.99/$25.99)
Arcade Classics Anniversary Collection ($19.99/$25.99)
The Padre ($19.99/$24.99)
Witch Thief ($19.99/not releasing: Friday)
Moai VI: Unexpected Guests ($18.99/$24.99)
Moto Rush GT ($14.99/$18.99: Friday)
Katana Zero ($14.99/$18.89)
Cafeteria Nipponica ($12.00/$15.12)
Active Soccer 2019 ($11.99/$14.99: Friday)
Tanks Meet Zombies ($9.99/$12.59: Tuesday)
Path To Mnemosyne ($9.99/$12.59: Tuesday)
Hell is Other Demons ($9.99/$12.59)
Secrets of Magic - The Book of Spells ($9.99/$11.99)
DayD: Through Time ($9.99/not releasing)
You Died But A Necromancer Revived You ($8.99/$11.33: Friday)
The Knight and The Dragon ($7.99/$10.07)
SlabWell: The Quest for Kaktun's Alpaca ($7.99/$9.99)
Everybody, Hearts! ($6.00/not releasing)
Croc's World 2 ($5.99/$6.99)
Alpha ($5.00/$6.50: Friday)
Sudoku Relax ($5.00/$6.30)
Iron Snout ($4.99/$6.99: Friday)
Risky Rescue ($4.99/$5.99)
Dawn of Survivors ($1.99/$2.49)
Warhammer Age of Sigmar: Champions (free)
New 3DS eShop
Zara: The Fastest Fairy ($0.98)
Switch Archives
Samurai Shodown V Special ($7.99/$9.87)
Sales and Price Drops
Highlights: Crash Bandicoot N.Sane Trilogy and Diablo III: Eternal Collection are on sale until the 22nd, Monster Boy and the Cursed Kingdom to the 25th. Spreadsheet
Europe
Switch Retail
Final Fantasy X/X-2 HD (€49.99/£44.99: Tuesday)
Our World Is Ended (€49.99/£39.99)
My Time At Portia (€29.99/£24.99: Tuesday)
Truberbrook (€29.99/£24.99: Wednesday)
Switch eShop
Construction Machines Simulator (€27.99/£25.19: Friday)
Cuphead (€19.99/£16.99)
The Padre (€19.99/£17.99)
Arcade Classics Anniversary Collection (€19.99/£15.99)
Moto Rush GT (€14.99/£13.49: Friday)
Katana Zero (€14.99/£13.49)
Witch Thief (€12.99/£11.99)
Cafeteria Nipponica (€10.00/£8.99)
Active Soccer 2019 (€9.99/£8.99: Friday)
Tanks Meet Zombies (€9.99/£8.99: Tuesday)
Path To Mnemosyne (€9.99/£8.99: Tuesday)
Hell is Other Demons (€9.99/£8.99)
The Knight and The Dragon (€9.99/£8.99)
SlabWell: The Quest for Kaktun's Alpaca (€9.99/£8.99)
Secrets of Magic - The Book of Spells (€9.99/£8.99)
DayD: Through Time (€8.79/£7.89)
GoatPunks (€8.90/£7.99: Saturday)
You Died But A Necromancer Revived You (€8.99/£7.99: Friday)
Everybody, Hearts! (€5.00/£5.00)
Sudoku Relax (€5.09/£4.59)
Iron Snout (€4.99/£4.99: Friday)
Croc's World 2 (€4.99/£4.49)
Risky Rescue (€4.99/£4.49)
Dawn of Survivors (€1.79/£1.59: Friday)
Warhammer Age of Sigmar: Champions (free)
Switch Archives
Samurai Shodown V Special (€6.99/£6.29)
Japan
Langrisser I & II (¥7344)
Taisho x Alice All In One (¥6000)
Hakuisei Renai Shoukougun RE:Therapy (¥4800: Friday)
My Time At Portia (¥3295: Tuesday)
Konami Anniversary Collection: Arcade (¥3240)
Rad Rogers: Radical Edition (¥2980)
Cuphead (¥1980)
Scrap Rush (¥1680: Tuesday)
Katana Zero (¥1580)
Cafeteria Nipponica (¥1200)
Gureko Kara no Chousenjou 4 (¥1000)
Gureko Kara no Chousenjou 5 (¥1000)
Gureko Kara no Chousenjou 6 (¥1000)
Samurai Shodown V Special (¥823)
Block-a-Pix Deluxe (¥800)
Mercury Race (¥599)
Alpha (¥480)