You can cover a lot in a half hour.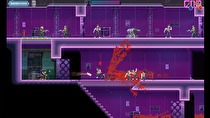 In addition to the announcement of Blaster Master Zero 2, Cuphead, and Cadence of Zelda, a whole host of new Switch games were shown during the Nindies Showcase.
Overland: A take on the end of the world, the squad-focused turn based strategy game features a party trying to make the difficult choices as they travel across the United States. Overland launches this fall.
My Friend Pedro, which was revealed at last year's E3 Devolver Digital press conference, will launch in June as a console exclusive.
Neo Cab stars a rideshare driver who is trying to save their friend in a dystopic version of California. The adventure title will be a summer release.
The Red Lantern from Timberline Studios is centered around winning the grueling Iditarod, a dog sled race held every year in Alaska. The musher has to fight off exhaustion, bears, and other threats to try and survive the race. The Red Lantern releases "later this year."
Darkwood is a survival horror game set in the Soviet Bloc, in which the player tries to survive in the woods. It will be out in May.
Katana Zero stars "The Dragon," a stylistic assassin with precognitive powers that include the ability to rewind time to the beginning of the stage. Katana Zero launches April 18 and can be preloaded today.
Creature in the Well is a pinball action adventure title that will offer multiple different weapons and eight hand-crafted dungeons. The well opens this summer.
Bloodroots is a top-down action game with the use of weapons such as hatchets and ladders to fight through difficult environments. It launches in summer.
Pine is an open-world third-person action adventure in which the enemies will adapt to the player's action. Players will scavenge, barter, and harvest to try and stay at the top of the food chain. Pine will sprout in August.
Swim Sanity is a 2D underwater shooter with 1-4 player co-op, including bot support, and will feature five versus game modes. Dual stick controls will be available as well as motion aiming and online support. It launches this summer.
New footage was shown for Stranger Things 3: The Game, which was revealed last December and will launch day and date with the third season of the show: July 4.
A sale for independent games will be going live on the eShop today, including Horizon Chase Turbo, Yoku's Island Express, and Firewatch.