We have our first split for the game list.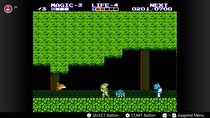 January will see a couple of side-scrolling adventures made available for Nintendo Switch Online subscribers.
Zelda II: The Adventures of Link and Sunsoft's Blaster Master will be available in all territories on January 16. The pair of 1988 (Western) action titles will bring the number of games available to 31.
For the first time, a game will only be available on the Famicom version of the app as the unlocalized Joy Mecha Fight will be available in Japan on the 16th. Western players with free Japanese-language Nintendo accounts have been able to access the Japanese version of the app so long as they are subscribed in another country.