No charging up lightsabers this time, it seems.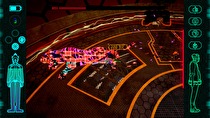 Huh, maybe the bold text isn't gonna show up thi-
Sorry for being late, was watching GDQ VODs. What's up this week?
Right. The big one this week is Travis Strikes Again: No More Heroes, which is being distributed by Nintendo hence the Friday release. Onimusha Remastered from Capcom is their most important re-release of the month, and a game that's been in the hopper long enough that I played it at PAX East is coming with YIIK.
Isn't there an Idea Factory JRPG this week?
Fairy Fencer F, the minor example of why they should probably stick to visual novels, is actually the most expensive game of the week. The lease expensive of the bunch, Gunman Clive HD Collection, is worth a look for those who miss Game Boy platformers, and... oh, Fight of Gods is coming. I guess we're all going to hell now.
Anything interesting outside of North America?
Europe's showing a Dragon's Lair Trilogy, which is actually two Dragon's Lair games and Space Ace because reasons.
North America
Switch Retail
Travis Strikes Again: No More Heroes (US$29.99/C$37.79: Friday)
Dragon's Lair Trilogy ($19.99/$25.99)
Switch eShop
Fairy Fencer F: Advent Dark Force ($39.99/$50.39)
Onimusha: Warlords ($19.99/$26.99: Tuesday)
Mars or Die ($19.99/$25.20: Friday)
YIIK ($19.99/$24.99)
Feudal Alloy ($16.99/$21.99)
Forever Forest ($14.99/$18.99: Monday)
Holy Potatoes! We're In Space?! ($14.99/$18.99)
Football Heroes Turbo ($14.99/$18.89)
Build a Bridge ($14.99/$17.99)
The Shrouded Isle ($14.99/$17.99)
Octahedron: Transfixed Edition ($14.99/$17.49)
Fight of Gods ($12.99/$16.37: Friday)
Mega Mall Story ($12.00/$15.12)
Rampage Knights ($11.99/$14.99)
The Office Quest ($11.99/$14.99)
My Arctic Farm 2018 ($9.99/$14.99)
Utopia 9 - A Volatile Vacation ($9.99/$12.99: Saturday)
Dying: Reborn ($9.99/$12.59)
My Exotic Farm 2018 ($9.99/$12.59)
Crazy Strike Bowling EX ($9.99/$12.59)
Bedtime Blues ($9.99/$11.99)
Old School Racer 2 ($7.99/$9.99: Friday)
Cinderella - An Interactive Fairytale ($5.99/not releasing: Friday)
Planet Rix-13 ($4.99/$6.29: Wednesday)
Spot The Differences: Party ($4.99/$6.29)
Bash the Bear ($3.99/$5.03: Wednesday)
Left-Right: The Mansion ($3.99/$4.99)
Gunman Clive HD Collection ($3.99/$4.99)
GetAmped Mobile (free)
3DS eShop
Dragon's Wrath ($4.99/$5.99)
Phasmophobia: Hall of Mirrors ($2.99/not releasing: New 3DS only)
Switch Archives
Ninja Master's: Haō Ninpō Chō ($7.99/$9.87)
Nintendo Switch Online - NES Library
Blaster Master, The Legend of Zelda II: The Adventure of Link
Sales and Price Drops
Highlights: Double Cross has a 25% launch discount valid until January 24. Spreadsheet
Europe
Switch Retail
Travis Strikes Again: No More Heroes (€29.99/£24.99: Friday)
Switch eShop
Fairy Fencer F: Advent Dark Force (€34.99/£29.99)
Mars or Die (€19.99/£19.99: Tuesday)
YIIK (€19.99/£17.99)
Dragon's Lair Trilogy (€19.99/£17.99)
Onimusha: Warlords (€19.99/£15.99: Tuesday)
Feudal Alloy (€14.99/£13.49)
Build a Bridge (€14.99/£13.49)
Holy Potatoes! We're In Space?! (€14.99/£12.99)
The Shrouded Isle (€14.99/£12.99)
Octahedron: Transfixed Edition (€12.99/£9.99: Wednesday)
Forever Forest (€14.99/£13.49: Monday)
The Office Quest (€11.99/£10.99)
Fight of Gods (€11.29/£11.29)
Mega Mall Story (€10.00/£8.99)
Mecho Wars: Desert Ashes (€9.99/£8.99)
My Exotic Farm 2018 (€9.99/£8.99)
Rampage Knights (€9.99/£8.99)
Utopia 9 - A Volatile Vacation (€9.99/£8.99: Saturday)
Ancient Rush 2 (€9.99/£8.99: Friday)
Crazy Strike Bowling EX (€9.99/£8.99)
Bedtime Blues (€9.99/£8.99)
Paladin (€8.99/£7.99: Friday)
Dying: Reborn (€8.39/£7.59)
Old School Racer 2 (€6.49/£5.99: Friday)
Solitaire Klondike Black (€5.09/£4.59)
Bash the Bear (€4.99/£4.49: Monday)
Spot The Differences: Party (€4.99/£4.49)
Planet Rix-13 (€4.99/£4.49: Wednesday)
Cinderella - An Interactive Fairytale (€4.99/£4.39: Friday)
Gunman Clive HD Collection (€3.99/£3.59)
GetAmped Mobile (free)
Wii U eShop
El Silla: Arcade Edition (€1/£1)
Switch Archives
Johnny Turbo's Arcade: Nitro Ball (€7.99/£7.10)
Ninja Master's: Haō Ninpō Chō (€6.99/£6.29)
Nintendo Switch Online - NES Library
Blaster Master, The Legend of Zelda II: The Adventure of Link
Japan
Travis Strikes Again: No More Heroes (¥3218)
Clouds & Sheep 2 (¥1980)
Caveblazers (¥1680)
Asdivine Hearts 2 (¥1296)
Mega Mall Story (¥1200)
Dying: Reborn (¥1155)
Ninja Master's: Haō Ninpō Chō (¥823)
Word Sudoku by POWGI (¥800)
Daifugo f.net (¥500)
Nintendo Switch Online - NES Library
Blaster Master, The Legend of Zelda II: The Adventure of Link, Joy Mecha Fight