Wait, these games have endings?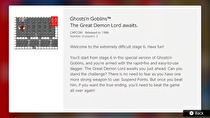 The Nintendo Switch Online update today has brought the opportunity to beat two of the NES's most infamously difficult games.
Ghosts 'n Goblins and Ninja Gaiden were this month's recipients of SP versions for the service. Ghosts 'n Goblins picks up in stage 6 with the Dagger equipped, but still requires a second playthrough for the true ending.
Ninja Gaiden picks up at stage 6-4, just before the final boss of the game, though losing to the boss would still return the player to 6-1.
OH COME ON #NES #NintendoSwitch pic.twitter.com/Gwx5Ralus7

— Donald Theriault (@NWRDonald) January 16, 2019