Related: Several staffers saw the ending of Dr. Mario today.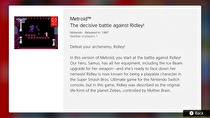 All territories received two SP titles with this month's Nintendo Switch Online NES update.
Dr. Mario and Metroid both received the special treatment this month. In Dr. Mario, the save picks up at a nearly-finished Stage 20 on the "Hi" speed, allowing for the viewing of a rare cutscene.
Metroid's save file does not start so close to the end game, but does pick up at the Ridley fight as a tribute to the intergalactic dragon's appearance in Super Smash Bros. Ultimate. Samus does have a full inventory with the Ice Beam.