For us, it's the beginning of a break. For JAPAN...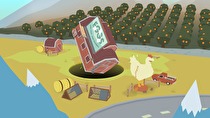 OK, we've got to be slowing down, right? Or are we looking at another week of six shadowdrops before lunch on Thursday?
Well, there's nothing retail for North America, but Europe is getting Fitness Boxing as an early Christmas gift. Sundered's hitting Thursday, and we can finally stop making Jeopardy jokes when Firewatch drops in a bit. Speaking of dropping, Donut County's coming out tomorrow to provide a nice counterbalance to Katamari Damacy.
Not bad. Anything particularly weird, though?
Let's see, we have a game about the ancient art of blowing up lakes, a Kemco alert, and a game that is quite literally Guess Who with the serial number filed off. At least it looks like we're getting Bust-a-Move in the Archive this week.
So why is Japan so busy?
Trying to ride the wave of Dragon Quest Builders 2, probably. They're looking at the busiest week, with a follow up to The Battle Cats POP from 3DS and a Kunio-Kun collection among their highlights.
North America
Switch eShop
Nightshade (US$47.99/C$60.99)
Clue ($29.99/$34.99: Monday)
Battle Princess Madelyn ($19.99/$25.19)
Sundered: Eldritch Edition ($19.99/$22.79)
Dynamite Fishing: World Games ($19.99/$22.49: Friday)
Firewatch ($19.99: Monday)
Funghi Explosion ($17.99/$22.67)
The Keep ($17.99/$21.99)
Nippon Marathon ($14.99/$18.99: Monday)
Kingmaker: Rise to the Throne ($14.99/$18.99)
Sheltered ($14.99/$18.89: Tuesday)
Bring Them Home ($14.99/$18.89)
Chronus Arc ($12.99/$17.99)
Donut County ($12.99/$14.99: Tuesday)
Razed ($11.99/$15.11: Wednesday)
Viviette ($9.99/$14.99)
City Builder ($9.99/$12.99: Monday)
Wondershot ($9.99/$12.99: Saturday)
Mana Spark ($9.99/$12.99: Saturday)
Koloro ($9.99/$12.99: Saturday)
Horizon Shift '81 ($9.99/$12.59)
Clouds & Sheep 2 ($9.99/$12.49: Friday)
Leopoldo Manquiseil ($5.99/$7.55)
Revertia ($4.99/$6.54)
Awe ($4.99/$6.29)
Jewel Fever 2 ($4.99/$6.29: Friday)
Hyperide: Vector Raid ($3.99/$5.03: Monday)
Cake Laboratory ($2.99/$3.99)
Guess The Character ($2.99/$3.77)
InkyPen (free: Monday, subscription required)
Switch Archives
Bust-a-Move ($7.99/$9.87)
Donkey Kong Jr ($7.99/$9.87: Friday)
Sales and Price Drops
Highlights: Surgeon Simulator CPR is on sale until January 2. Spreadsheet
Europe
Switch Retail
Fitness Boxing (€49.99/£39.99: Friday)
Switch eShop
Nightshade (€47.99/£43.19)
Party Arcade (€24.99/£19.99: Monday)
Sundered: Eldritch Edition (€19.99/£15.49: Friday)
Firewatch (€19.99/£14.99: Monday)
Battle Princess Madelyn (€17.49/£15.79)
Funghi Explosion (€17.00/£18.29: Wednesday)
Kingmaker: Rise to the Throne (€14.99/£13.49)
Bring Them Home (€14.99/£13.49)
Sheltered (€14.99/£9.99: Tuesday)
Nippon Marathon (€12.99/£11.99: Monday)
Chronus Arc (€12.99/£11.69)
Donut County (€11.99/£10.99: Tuesday)
Viviette (€9.99/£9.99)
Razed (€9.99/£9.29: Wednesday)
City Builder (€9.99/£8.99: Monday)
Dynamite Fishing: World Games (€9.99/£8.99: Friday)
Clouds & Sheep 2 (€9.99/£8.99: Friday)
Wondershot (€9.99/£8.99: Saturday)
Mana Spark (€9.99/£8.99: Saturday)
Koloro (€9.99/£8.99: Saturday)
Horizon Shift '81 (€7.99/£7.19)
Leopoldo Manquiseil (€5.99/£5.39)
Awe (€4.99/£4.49)
Dreamwalker (€4.39/£3.99: Wednesday)
Revertia (€3.99/£3.99)
Jewel Fever 2 (€3.99/£3.59: Friday)
Guess The Character (€2.99/£2.69)
Hardway Party (€1.99/£1.99: Monday)
InkyPen (free: Monday, subscription required)
Switch Archives
Bust-a-Move (€6.99/£6.29)
Donkey Kong Jr (€6.99/£6.29: Friday)
Japan
Dragon Quest Builders 2 (¥8424)
Fit Boxing (¥6264)
Yoshiwara Higanbana Kuon no Chigiri (¥5800)
Kunio-kun: The World Classics Collection (¥5390)
Kato Hifumi Kudan Kanshuu: Hifumin no Shogi Dojo (¥5184)
Root Letter Last Answer (¥4980)
Repkiss (¥4980)
Nightshade (¥4800)
Onimusha (¥3490)
Katamari Damacy Reroll (¥3456)
de Blob (¥2200)
Sundered: Eldritch Edition (¥2050)
Funghi Explosion (¥2000)
Firewatch (¥1980: Tuesday)
Donut County (¥1500: Tuesday)
Nippon Marathon (¥1500: Monday)
WWA Collection (¥1500)
Syberia (¥1499)
Syberia 2 (¥1499)
Chronus Arc (¥1296)
Zaibatsu Towns V (¥1200)
Phrasefight (¥1000)
Futari de! Nyanko Daisensou (¥999)
Ugoku Jigsaw Puzzle: Yasei Doubutsu (¥999)
The Demon Crystal (¥972)
Puzzle Bobble (¥823)
Donkey Kong Jr (¥823: Friday)
Spy Chameleon (¥800)
Solitaire Klondike BLACK (¥500)
Tori Dama ~Minna De Chicken do Shindan~ (¥500)
Net Catcher Netch (free)