A few things and a lot of sales to mark this Christmas week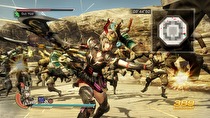 So you had to bow out of the Feats of Strength due to injury, and aired the wrong grievance. And you have to work today. Your holiday is banging.
Anything new and interesting this week, or is everyone too busy putting their games on sale?
Seems like everything is coming out either today or on Christmas Day itself. Sadly, the Dynasty Warriors game that lets you kill everyone who POed you doesn't come out until two days after. Limited Run is publishing something called Revenge of the Bird King, so that should be up for physical purchase in the New Year. Other than that, Europe's got twice the lineup of North America.
Japan's big one is next week, how are they looking?
They've got Diablo III and Dynasty Warriors, they'll be just fine for New Year's and the biggest week of Switch sales until this time next year.
And I think you're contractually obligated to throw in something sappy here.
*sigh* Christmas. It's not the giving, it's not the getting, it's the loving. (There, I said it. Now get outta here.) On behalf of the NWR family, enjoy whatever you're celebrating this week and we'll see you to kick off 2019 in seven days.
North America
Switch eShop
Dynasty Warriors 8 Xtreme Edition (US$39.99/C$50.39)
Omega Strike ($14.99/$18.89: Monday)
Aaero: Complete Edition ($14.99/$: Monday)
Blacksea Odyssey ($12.99/$16.37: Monday)
Pipe Push Paradise ($10.99/$13.85: Monday)
Super Hero Fight Club: Reloaded ($9.99/$12.99: Monday)
Uncanny Valley ($9.99/$12.59: Tuesday)
Super Treasure Arena ($9.99/$12.59: Monday)
Odium to the Core ($4.99/$6.49: Tuesday)
Revenge of the Bird King ($4.99/$6.29)
Diggerman ($4.99/$5.99: Monday)
Abyss ($2.99/$3.77: Tuesday)
Switch Archives
The King of Fighters 2002 ($7.99/$9.87)
Sales and Price Drops
Highlights: Over 30% of the Switch eShop is on sale as of press time, with big sales including Diablo III Eternal Collection (34% off until Thursday) and Civilization VI (25% off until January 10 along with all other 2K-published Switch games). Spreadsheet
Europe
Switch Retail
My Little Riding Champion (€34.99/£31.49: Monday)
Switch eShop
Dynasty Warriors 8 Xtreme Edition (€39.99/£34.99)
JCB Pioneer: Mars (€22.19/£19.99: Monday)
Rain World (€19.99/£17.99)
The Keep (€17.99/£15.99: Monday)
Omega Strike (€14.99/£13.49: Monday)
Catastronauts (€14.99/£12.99: Monday)
Blacksea Odyssey (€12.99/£11.69: Monday)
The Aquatic Adventure of the Last Human (€12.99/£11.69: Tuesday)
Aaero: Complete Edition (€12.99/£10.99: Monday)
Pipe Push Paradise (€10.99/£9.89: Monday)
Venture Towns (€10.00/£8.99)
Mech Rage (€9.99/£8.99: Sunday)
Tetraminos (€9.99/£8.99: Monday)
Brick Breaker (€9.99/£8.99: Monday)
Super Hero Fight Club: Reloaded (€9.99/£8.99: Monday)
Uncanny Valley (€9.99/£8.99: Tuesday)
Super Treasure Arena (€9.99/£7.99: Monday)
Animated Jigsaws: Wild Animals (€8.99/£7.99: Monday)
Animus: Stand Alone (€8.99/£7.99: Monday)
Mentori Puzzle (€7.00/£6.29)
Diggerman (€4.99/£4.49: Monday)
Odium to the Core (€4.99/£4.49: Tuesday)
Mad Age and This Guy (€4.69/£4.19: Monday)
Job the Leperchaun (€2.99/£2.99)
Cake Laboratory (€2.99/£2.69: Monday)
Abyss (€2.99/£2.69: Tuesday)
IHugU (€2.99/£2.69: Monday)
Switch Archives
Johnny Turbo's Arcade: Heavy Barrel (€7.99/£7.10)
The King of Fighters 2002 (€6.99/£6.29)
Demos and Trials
Octahedron: Transfixed Edition
Mahjong Solitaire Refresh
Gelly Break
Japan
Diablo III Eternal Collection (¥7538)
Shin Sangoku Musou7 with Moushouden DX (¥7344)
Go Vacation (¥5378)
Giana Sisters: Twisted Dreams Owltimate Edition (¥2980)
2064: Read Only Memories Integral (¥2064)
Aaero: Complete Edition (¥1700)
Atsumare! Bowling (¥1500)
Die For Valhalla (¥1296)
Gain Ground (¥999)
Agartha-S (¥990)
Dei Gratia no Rashinban (¥972)
Voxel Sword (¥800)
Pixel Action Heroes (¥500)