If you're not cheating, you're not trying.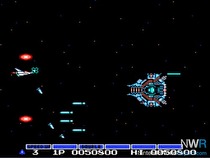 The world gets to enjoy some easier Gradius today, while Japan can also have an advantage on the links.
A "SP" save, in the style of The Legend of Zelda's, was added today for Gradius in the NES catalogue for Nintendo Switch Online. The enhanced save starts in stage 5 (of 7) and includes all powerups except for the game's double shot due to it conflicting with the included Laser.
The Famicom version of the application received a second SP file for the game known in the West as NES Open Tournament Golf. In this version, all of the game's six courses are unlocked, instead of having to unlock them by shooting a particular score on a course.