It's dangerous to go alone. Take this, and this, and this...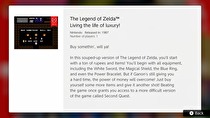 The month's updates to the NES library have included a special treat for those who haven't beaten the original Legend of Zelda.
In addition to NES Open Tournament Golf/Solomon's Key/Super Dodge Ball, a special save file has been added to The Legend of Zelda. The save file comes with the maximum 255 Rupees, the White Sword, a Magical Shield, the Blue Ring, and the Power Bracelet.
Other NES games will receive similar data in the future.