TOSSUP: Bigger dick - Blue, or any Civ VI world leader?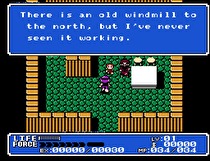 This week's biggest game is an RPG that heavily references the late 90s, being brought to a new generation with some changes that may be controversial. I speak of course of Crystalis, the centerpiece game for the SNK 40th Anniversary Collection. Also, there's a Pokémon game, and it appears the number of available Pokémon without dealing with the motion-focused catching mechanics means that I'll be able to play it. (Beating it, on the other hand...) If you want to get your turn-based on strategy in another way and develop a new hatred for historical figures, you can also cop Civilization VI.
For the smaller titles, we have the ultraviolent Mother Russia Bleeds from Devolver, and what has to be a blatant attempt to combine the battle royale craze with a children's card game. At least as of press time. The Archive entries so far include Heavy Barrel from Data East, as the promised Phantasy Star looks unlikely to finish localization for Thursday. But we'll see. The Nintendo Switch Online update will also hit on Wednesday.
Japan gets RPG Maker MV and its player this week, but they're probably going gaga for Geodude.
North America
Switch Retail
Pokémon Let's Go: Pikachu / Eevee (US$59.99/C$79.99: Friday)
Civilization VI ($59.99/$79.99: Friday)
SNK 40th Anniversary Collection ($39.99/$50.39: Tuesday)
Project Highrise: Architect's Edition ($39.99/$50.39: Tuesday)
My Riding Stables: Life with Horses ($29.99/$39.99: Tuesday)
Trailblazers ($29.99/$37.79)
Switch eShop
Super Hydorah ($19.99/$24.99)
Mother Russia Bleeds ($14.99/$18.89)
Mimpi Dreams ($9.99/$12.59)
Mars: Chaos Menace ($9.99/$12.59: Friday)
Destruction ($9.99/$12.59)
Mahjong ($9.99/$12.49: Tuesday)
Teddy the Wanderer: Kayaking ($9.99/$11.99)
Toast Time: Smash Up ($9.99/$11.99: Friday)
Circle of Sumo ($9.99/$11.99: Friday)
Solitaire Battle Royal ($9.99)
Palm Reading Premium ($8.99/$10.99: Wednesday)
Chalk Dash Carnival ($7.09/$9.27: Wednesday)
Soap Dodgem ($6.89/$8.68)
M.A.C.E. Space Shooter ($4.99/$6.29)
RocketsRocketsRockets ($4.99/$5.99)
Swamp Defense 2 ($2.99/$3.77)
Tinboy ($1.99/$2.50)
Coloring Books (free to start)
Wii U eShop
Last Soldier ($0.99/$1.25)
Switch Archives
Johnny Turbo's Arcade: Heavy Barrel ($7.99/$10.40)
Stakes Winner 2 ($7.99/$9.87)
Atomic Robo Kid ($7.99/$9.87)
Switch Online: NES Library
Metroid, Mighty Bomb Jack, Twinbee (Wednesday)
Sales and Price Drops
Highlights: Team17 games are on sale until Wednesday, Slayaway Camp: Butcher's Cut is on sale until the 22nd. Spreadsheet
Europe
Switch Retail
Pokémon Let's Go: Pikachu / Eevee (€59.99/£49.99: Friday)
Civilization VI (€49.99/£44.99: Friday)
Cabela's: The Hunt - Championship Edition (€49.99/£44.99: Friday)
Bass Pro Shops: The Strike - Championship Edition (€49.99/£44.99: Friday)
SNK 40th Anniversary Collection (€39.99/£35.99: Friday)
Bibi & Tina: Adventures With Horses (€29.99/£26.99)
Trailblazers (€29.99/£24.99)
Switch eShop
Super Hydorah (€19.95/£17.89)
Mother Russia Bleeds (€14.99/£13.49)
Circle of Sumo (€9.99/£8.99: Friday)
Mimpi Dreams (€9.99/£8.99: Wednesday)
Mahjong (€9.99/£8.99: Tuesday)
Mars: Chaos Menace (€9.99/£8.99: Friday)
Teddy the Wanderer: Kayaking (€9.99/£8.99)
Destruction (€8.99/£8.09)
Palm Reading Premium (€8.99/£7.99: Wednesday)
Toast Time: Smash Up (€8.99/£7.99: Friday)
Solitaire Battle Royal (€8.59/£7.69: Friday)
Soap Dodgem (€6.89/£6.19)
Desktop Soccer (€6.14/£5.42: Wednesday)
M.A.C.E. Space Shooter (€4.99/£4.49)
RocketsRocketsRockets (€4.49/£3.99)
Swamp Defense 2 (€2.99/£2.69)
Tinboy (€1.99/£1.79: Tuesday)
Coloring Books (free to start)
Switch Archives
Stakes Winner 2 (€6.99/£6.29)
Atomic Robo Kid (€6.99/£6.29)
Switch Online: NES Library
Metroid, Mighty Bomb Jack, Twinbee (Wednesday)
Japan
RPG Maker MV (¥8424)
Pokémon Let's Go: Pikachu / Eevee (¥6458)
Gesshizu: Gajigaji Nakama wo Sodateyou (¥6264)
Civilization VI (¥6200)
Legendary Fishing (¥5184)
Sports Party (¥5184)
Trailblazers (¥3980)
Super Hydorah (¥2500)
WILL: Subarashiki Sekai (¥1480)
Solitaire Battle Royal (¥1200)
Destruction (¥1000)
Gem Crash (¥980)
Stakes Winner 2 (¥823)
Atomic Robo Kid (¥823)