We're giving a few days notice before we go into a turkey coma.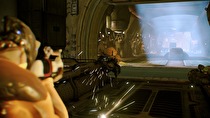 Just because it's a holiday week in the US doesn't mean games aren't releasing by the dozen. The big gun for this week is Warframe, the groin-grabbingly popular free to play shooter ported to Switch by Panic Button so the port should be quality; we'll find out this week. If you'd like to play something in multiplayer when the football games quickly become jokes - it is the anniversary of the Buttfumble, after all - you can also dive into Nidhogg II or Ms. Splosion Man.
As of yet, the only Archives release known is Super Burger Time finally coming to Europe, as is tradition for Hamster and Sega to not launch their Archives until they're out in Japan.
Speaking of, Bandai Namco is dumping a few licensed action games this week, and Europe will also be getting a quiz show that only runs in German.
North America
Switch Retail
ATV Drift & Tricks (US$39.99/C$44.99)
Bendy and the Ink Machine ($29.99/$37.79: Tuesday)
Switch eShop
Waku Waku Sweets ($39.99/$50.39)
Youtuber's Life: OMG Edition ($29.99/$37.79: Tuesday)
Panda Hero ($29.99/$37.79)
Bibi & Tina - Adventures With Horses ($29.99/$35)
Bibi Blockenberg - Big Broom Race 3 ($29.99/$34.99)
Ms. Splosion Man ($14.99/$18.99)
Party Hard ($14.99/$18.89)
Nidhogg 2 ($14.99/$18.89)
Battery Jam ($14.99/$17.49)
The Adventures of Bertram Fiddle Episode 2: A Bleaker Predicklement ($9.99/$12.59)
Please, Don't Touch Anything ($9.99/$11.99)
Zeus Quest Remastered ($8.99/$11.33)
Word Sudoku by POWGI ($7.99/$9.99)
Desktop Soccer ($7.11/$9.31: Wednesday)
Gem Crash ($5.99/$7.49)
Storm Boy ($5.99/$7.00: Tuesday)
Steamburg ($4.99/$6.29)
kuso ($4.99/$5.99: Tuesday)
Stump ($2.29/$2.89: Friday)
Warframe (free to start: Tuesday)
Wii U eShop
Crush Insects ($0.99/$1.25)
3DS eShop
Japanese Rail Sim 3D: 5 Types of Trains ($19.99/$25.19)
Switch Archives
King of the Monsters 2 ($7.99/$9.87)
Demos and Trials
Energy Cycle Edge
Forgotten Anne (Friday)
Hot Springs Story
Sales and Price Drops
Highlights: Choice Provisions games are on sale until the 29th including 66% off Runner3: Nintendo's Black Friday deals are expected sometime this week. Spreadsheet
Europe
Switch Retail
SNK 40th Anniversary Edition (€39.99/£35.99: Friday)
ATV Drift & Tricks (€34.99/£29.99)
Moto Racer 4 (€34.99/£29.99: Tuesday)
Giana Sisters: Twisted Dreams - Owltimate Edition (€29.99/£26.99: Wednesday)
Bendy and the Ink Machine (€29.99/£24.99: Tuesday)
Switch eShop
Waku Waku Sweets (€39.99/£35.99)
Youtuber's Life: OMG Edition (€29.99/£26.99: Tuesday)
Panda Hero (€29.99/£26.99)
Party Hard (€14.99/£13.49)
Nidhogg 2 (€14.99/£13.49)
Ms. Splosion Man (€14.99/£11.99)
Sword of the Guardian (€12.99/£tbd: Saturday)
Frag doch mal... die Maus! (€9.99/£8.99: Wednesday) German only
Julie's Sweets (€9.99/£8.99)
Please, Don't Touch Anything (€9.99/£8.99)
Zeus Quest Remastered (€8.99/£7.99)
The Adventures of Bertram Fiddle Episode 2: A Bleaker Predicklement (€7.99/£7.19)
Word Sudoku by POWGI (€7.99/£6.99)
Storm Boy (€5.99/£5.39: Tuesday)
Peace, Death! Complete Edition (€4.99/£4.49: Wednesday)
Gnomes Garden (€4.99/£4.49)
Steamburg (€4.99/£4.49)
kuso (€4.49/£3,99: Wednesday)
Hyperide: Vector Alpha (€3.99/£3.59: Wednesday)
Stump (€1.99/£1.79: Friday)
Warframe (free to start: Tuesday)
Switch Archives
Johnny Turbo's Arcade: Super Burger Time (€7.99/£7.99)
King of the Monsters 2 (€6.99/£6.29)
Demos and Trials
Art of Balance (Switch)
Energy Cycle Edge
Desktop Soccer
Forgotten Anne (Friday)
Japan
Sangoku Rensenki ~Otome no Heihou!~ (¥5800)
Nari Kids Park HUGtto! PreCure (¥5184)
Nari Kids Park Kaitou Sentai Lupinranger VS Keisatsu Sentai Patranger (¥5184)
Nari Kids Park Ultraman R/B (¥5184)
Hand of Fate 2 (¥2700)
The Binding of Isaac: Rebirth (¥2160)
I Am The Hero (¥1200)
Hyper Sentinel (¥1080)
The Adventures of Bertram Fiddle Episode 2 (¥1000)
King of the Monsters 2 (¥823)
Warframe (free to start: Tuesday)