This'll make the Punch-up in Piestany look like a minor spat.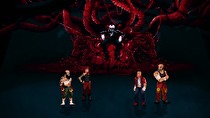 November is going to be a month of Switch violence, and it's not just because of Black Friday.
Devolver Digital have announced Mother Russia Bleeds, an ultra-violent brawler set in an alternate version of the USSR, for a November 15 release. Up to four players can punch their way through a brutal, M-rated dystopia.
For those who need a swordfight at their Thanksgiving gatherings, Nidhogg 2 will provide those on Switch November 22. A product of the GameMaker engine which powers Undertale among other games, the Nidhogg games are 1v1 sword fighters in a 2D environment.