Operation "Pass The WIi U" now in full effect for the Switch.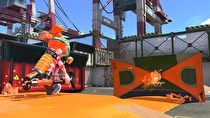 Nintendo has announced their earnings for the second fiscal quarter (through September 30, so no Mario Odyssey effects), and the Switch is rising to heaven.
The new console managed to increase production and sales compared with last quarter, selling 2.92m Switches worldwide and prompting a 40% increase in their estimates for sales of the system. The 3DS family saw a bit of a spike from the New 2DSXL and sold 1.96m units, leading to a healthy profit for Nintendo.
Financial Indicators (Note: All yen / US$ comparisons based on current exchange rate as of press time: US$1 = ¥113. These conversions are for clarification only, and are based on six months of sales.)
Ordinary net income: ¥69.591 billion ($611.879 million)
Operating income: ¥39.961 billion ($351.418 million)
Net sales: ¥374.041 billion (~$3.29 billion), of which approximately 73% were "overseas" (outside Japan)
Mobile revenue: ¥17.9 billion ($157.473 million), 426% increase over the same period last year
Download sales: ¥22.8 billion ($200.580 million), 55% increase
Hardware Projections
Nintendo has revised their projection for Switch hardware to 14 million systems for the year. If this is met, the Switch will pass the Wii U's life to date sales in its first calendar year.
System Sales
Switch 2.92 million in the quarter, 7.85m lifetime, 27.48m units of software sold LTD.
"3DS family" 1.96 million in the quarter, 68.98m lifetime, 343.07m units of software sold LTD.
Software Sales
Splatoon 2: Opened to 3.61m units sold.
The Legend of Zelda: Breath of the Wild: Switch sales at 4.7m
Mario Kart 8 Deluxe: 4.42m sold.
ARMS is the fifth best selling Switch game at 1.35 million, trailing 1-2 Switch by about 20,000 copies.
Pokémon Sun and Moon was passed for the title of second best selling 3DS game by Mario Kart 7, at 15.9m and 15.95m life to date respectively.
Updated Release Calendar
No major changes on first party except for Nintendo confirming their role as overseas publisher of the Dragon Quest Builders port for Switch.