The pass we've all been waiting for.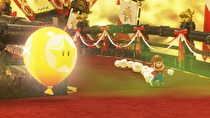 The Switch has passed its first target.
Nintendo has released their results for the 3rd quarter of fiscal 2017 (ending December 31), and have officially confirmed lifetime shipments of the Switch of 14.86 million units to pass the Wii U's 13.56m lifetime shipments. It is now the fastest selling home console by units shipped in company history, passing the sales of the Wii (13.17m) for the same timeframe.
Other items of note from the release are below.
Financial Inidcators
Through the first nine months of the fiscal year, Nintendo's net income (profit) was 194.563 bn yen (approximately US$1.79bn, assuming current market rate of US$1 = ¥108.7). This was on sales of 857 bn yen ($7.8bn) and was buoyed by an operating profit of 156.452 bn yen ($1.44bn).
Nintendo's mobile revenue was ¥29.1bn/~$267.6m, while profit from related companies was ¥16.781bn/~$154.3m. Download sales were ¥49.1bn/~$396.4m, approximately 5.7% of sales.
As a result, Nintendo has had to raise their guidance for full year sales, operating profit and net profit. PDF link
Hardware Shipments
Switch: 7.01m in the third quarter, 14.86m life to date.
3DS family: 3.01m in the third quarter, 71.99m LTD.
Mini systems (SNES Classic/Super Famicom Classic): No numbers provided, but sales were described as "a hit".
Amiibo sales: 9.3m figures in the quarter.
Software Performance
Super Mario Odyssey was the major title of the third quarter, shipping 9.07m copies, while on the 3DS side Pokémon Ultra Sun and Ultra Moon shipped 7.17m copies. Other notable shipment numbers include.eight Switch titles (7 Nintendo games + Mario and Rabbids Kingdom Battle) shipping over a million copies, including Xenoblade Chronicles 2. Mario Kart 8 Deluxe is at 7.33m, Breath of the Wild 6.78m on Switch + Wii U sales (not revealed) and Splatoon 2 at 4.95m.
Release Schedules
The schedules for both 3DS and Switch releases in the Americas, Europe, and Japan are in the gallery attached below. Notable games without dates include Switch renditions of Fire Emblem (2018), Pokémon ("2018 or later") and Metroid Prime (TBA).