Mario is collecting a lot of coins.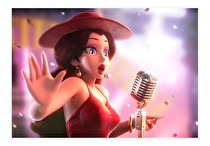 Following the release of the first half financial reports this morning (NA time), Nintendo held a briefing for institutional investors that provided some up to date information.
Both Super Mario Odyssey for Switch and the SNES Classic Mini have achieved sell-through of over 2 million units. The SNES Classic was as of "last tallies" which includes Japanese sales figures, while the 2 million for Odyssey is a sell-through from the game's opening weekend.
The life-to-date sales for North America and Europe's Switches were also given, with NA at just under 3 million and Europe just under 2. Although the sales were down from the Wii, the system is tracking well ahead of Wii U and Nintendo did remind investors that the Switch has not had a holiday season that both of its predecessors had in the first six months.
In mobile, the userbases for both Super Mario Run and Fire Emblem Heroes were discussed, with special attention given to userbase growth following events in September (the Remix10 mode for Super Mario Run and the "Choose Your Legends" event for Fire Emblem Heroes). Heroes will also add Traditional Chinese support and expand into Southeast Asia further by the end of the year.