A download title with over a 10% attach rate? Believe it.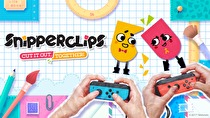 In addition to the New Nintendo 2DS XL, Nintendo's shareholder briefing gave news on game sales and future company plans.
Snipperclips has become a bit of a surprise hit for Nintendo, as the company reported over 350,000 copies of the game have been sold worldwide since the Switch launched. 1-2 Switch has shipped "nearly a million" units worldwide, while Konami's Super Bomberman R has shipped more than 500,000 units.
Although no additional details or dates were given for projects such as Animal Crossing, Nintendo confirmed intentions to release "2 - 3 smart device products" per year going forward. Super Mario Run has reached nearly 150m downloads between Android and iOS.
Nintendo will not be holding a full audience press conference at E3 this year. More details will come from Nintendo of America in the coming weeks.