Prepare the puppies and the colts.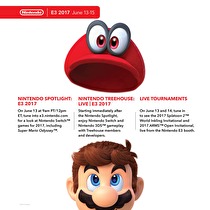 Nintendo will be sticking to most of their usual format for this year's Electronic Entertainment Expo.
The show will begin for Nintendo on June 13 at 12 pm Eastern time (9 am Pacific) with the "Nintendo Spotlight: E3 2017" video presentation, which will focus on Switch titles releasing in late 2017 including Super Mario Odyssey. Treehouse Live will kick off immediately following the end of the presentation, and will run for all three days of the show.
There will also be tournaments for Splatoon 2 on Tuesday (June 13) and ARMS on Wednesday, likely in the evening though more details will be given on the tournaments at a later date.