The Switch:Wii U sales ratio is about 4:1 in favor of the new.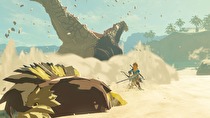 Nintendo has given their financial results for the fiscal year ended March 31, and appears to be riding a wave of momentum following the 1-2 punch of Pokémon Go-fueled 3DS sales and the successful Switch launch. The company isn't as bullish on Switch projections as some had hoped, but it would still be a great first full year if they can get close to their projected number.
Key financial indicators:
Net sales for the fiscal year 489.085b yen (US$4.391bn), operating income 29.362b yen (~$263m), ordinary profit 50.364bn yen (~$452m). Sales were down slightly, and operating income slightly lower, but ordinary profit jumped 75% from the last fiscal year.
Related entity revenue (Nintendo's share of The Pokémon Company) generated 50.3bn yen (~$452m).
Smart device revenue was 24.2bn yen (~$218m), download sales on current hardware 32.5bn yen (~$292m).
Hardware figures:
Despite only being on the market for 29 days, the Switch shipped 2.74 million units during the year, well up from the 2 million units the company had originally projected.
The 3DS shipped 7.27m units this fiscal year, up from the previous year, while the Wii U drew to a close with 760,000 units.
Amiibo shipped 9.1m figures and 9.3m cards during the year.
Software highlights:
The Legend of Zelda: Breath of the Wild shipped 2.76m units on Switch and 1.08m on Wii U, for a total of 3.84m units. 5.46m units of Switch software shipped in its opening month. Zelda's attach rate compared to Switch hardware is just over 100% based on these numbers (which include digital purchases where applicable).
Pokémon Sun and Moon have shipped 15.4m copies in four and a half months, making them the second best selling 3DS title behind Pokémon X and Y.
Super Mario Maker for 3DS shipped 2.34m units since its December launch, while Kirby: Planet Robobot sold 1.36m units during its first fiscal year.
Projections:
For the current (2017-18) fiscal year Nintendo is estimates net sales of 750bn yen and an operating profit of 65bn yen.
They have estimated 10 million Switches, and 35 million pieces of Switch software for the current fiscal year., along with 6m 3DS systems and 40m pieces of 3DS software.
Release calendar:
As announced in the European Nintendo Direct, Dr. Kawashima's Devilish Brain Training is finally listed with a release date (28 July) for the region.
Full calendar is available in the attachments below.
All currency conversions are estimates based on the current market rate of $1 US = ¥111.353, courtesy of xe.com.