Why is there a Gold reward for spending $97+ on an eShop game?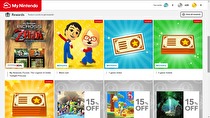 Miitomo has launched in Australia and New Zealand, but the world can see My Nintendo now.
The rewards program went live overnight (U.S. Eastern time), and the big exclusive rewards are the previously announced Legend of Zelda Twilight Princess Picross and WarioWare Touched. All members can also claim a code for Flipnote Studio 3D at sign-in - in North America, there is no point cost. Europe's rewards are similar to Japan's, while North America substitutes a Captain Toad for the yet-unreleased Metroid: Other M.
Missions are available which include linking social networking accounts to Miitomo and My Nintendo, as well as for accessing the eShop and Miiverse once per week.
See anything in your My Nintendo you want? Let us know in the Talkback below!
UPDATE: Miitomo is now live worldwide.