Jon has found his soulmate, an impersonal robotic voice that repeats his every thought.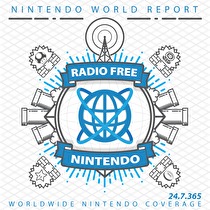 Subscribe via iTunes (Please rate and review, too!)
Miitomo has finally been released in North America, and it's already clear that Nintendo's mobile strategy was a mistake. Jon's Mii very quickly attempts to assert itself as the true fifth cast member, a possibility that simply cannot be allowed. James makes a valiant effort to bring back the cleansing light of the sun with puzzle-platformer 6180 the moon, for the Wii U eShop. Failing that, he attempts a slow-speed escape via Japanese Rail Sim 3D Journey in the Suburbs #1. Greg reports on the other, less haunting, half of Nintendo's big launches: My Nintendo. Also unable to stem the tide of Jon's Mii-sona, he becomes his inner bird and tries to fly his helicopter away in Japanese GameCube import Kururin Squash! Guillaume seems put out by the show's robotic interloper, and accordingly has impressions of Etrian Odyssey Untold: The Millennium Girl - the remake of the first game in the series that has a frequency indicative of automated creation. Finally, the inescapable reality of Jon and Jonbot is upon us, with RFN's second audio-only Let's Play! If you were excited at James' tour of TVii, you'll be thrilled to hear a virtual Jon mention "cock" eleven thousand times.
After a much needed break, the team returns with Listener Mail. James' delicate curation creates a delightful set of emails covering: the remaining life of 3DS and Wii U, why platforms die, why Nintendo refuses to sell us their music (with a brief cameo from James Jones Esq.), and the impact of Nintendo selling VC games repeatedly on sales of new indie games on their digital platforms. You can ask us questions via Miitomo, I suppose, but based on Jon's recent behavior I wouldn't recommend it. Instead, send your email to our inbox. I promise 60% less middle school humor.
This episode was edited by Guillaume Veillette. The "Men of Leisure" theme song was produced exclusively for Radio Free Nintendo by Perry Burkum. Hear more at Bluffs Custom Music.
This episode's ending music is DSi Shop Theme from the soon to be departed DSi Shop. All rights reserved by Nintendo.