Including the first set of rewards.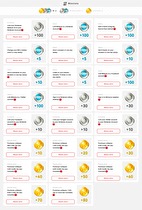 Miitomo has officially launched on both iOS and Android in Japan, and with it the Japanese MyNintendo website has gone live with its reward list.
Both the Gold and Platinum rewards provide different rewards, with categories including Miitomo rewards, game discounts, themes and free games. Perhaps the most prominent rewards are the rumored Twilight Princess Picross (1000 Platinum Points) and a discount on the Wii U downloadable version of Metroid: Other M (90 Gold Points).
Courtesy the translation of Nintendo Everything (originally spotted at GoNintendo), the full reward list is:
Game Codes
Twilight Princess Picross (3DS) (1000 Platinum)
WarioWare Touched! (DS) (1000 Platinum)
Donkey Kong Country Returns (Wii U) (320 Gold)
New Super Luigi U (Wii U) (240 Gold)
Super Mario 64 (Wii U) (120 Gold)
Super Punch-Out!! (Wii U) (100 Gold)
Metroid: Zero Mission (Wii U) (85 Gold)
Super Mario Land 2: 6 Golden Coins (50 Gold)
Pikmin 3 DLC (Wii U) (30 Gold)
Game Discounts
20% off Mario Kart 8 (950 Platinum)
20% off New Super Mario Bros 2 (750 Platinum)
20% off Brain Age: Concentration Training (600 Platinum)
20% off Dr Mario: Miracle Cure (230 Platinum)
40% off New Super Mario Bros. U (160 Gold)
40% off The Legend of Zelda: Majora's Mask 3D (130 Gold)
40% off Ultimate NES Remix (105 Gold)
50% off Metroid: Other M or Super Mario Galaxy (90 Gold)
50% off Mario and Donkey Kong: Minis on the Movie (50 Gold)
3DS Themes
Mario and Donkey Kong My Nintendo Themes are 200 Platinum each
Miitomo Rewards
Mario Suit (ingame reward) (250 Platinum)
Game tickets range from 85 - 450 Platinum for 1 - 10 tickets.