Featuring a bat and a chameleon in desperate need of pants.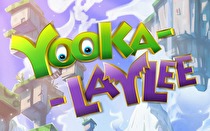 The game previously known as Project Ukulele now has a title, protagonists and a price for its Kickstarter backers.
Yooka-Laylee, the project announced a few months ago by the ex-Rare staff at Playtonic Games, is a 3D platformer starring Yooka the chameleon and Laylee the bat. Yooka can use his tongue as a grappling hook, while Laylee can fire sonic blasts and fly short distances.
The promised Kickstarter campaign will begin May 1st, and the game tier will be $15 or £10 with extras including a soundtrack and "64-bit" physical edition available. The game is scheduled for the Wii U, but how quickly the game comes will depend on the success of the crowdfunding project.
Playtonic Games's website has also updated, declaring itself "the home of Yooka-Laylee and googly eyes" and offering additional screenshots and video.