The Banjo-Kazooie team returns with a project that aims for the Wii U.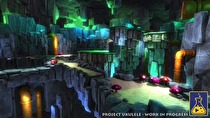 Playtonic Games held a livestream today at Eurogamer's Rezzed Expo (EGX Rezzed) to announce the development of Project Ukulele, the oft-rumored 3D platformer developed by veterans of the Banjo-Kazooie games and Donkey Kong 64.
The 3D platformer runs on Unity and will have collectable elements, though the team did confirm after that they would not extend the number of items to collect to DK64 levels. One of the main items to collect will be pages that expand the world when collected.
The characters have not been revealed, but Playtonic mentioned that the aim is to have the characters in multiple roles for multiple games.
Although crowdfunding will be available through Kickstarter, Playtonic is self-funding the game and aims to use Kickstarter as a means of gauging demand. The Kickstarter campaign itself will begin in May once the rewards and tiers are locked down, and suggestions can be made on the company forums. Veteran Rare composers David Wise and Grant Kirkhope have been confirmed as contributors to the project.
Speaking to Eurogamer, Playtonic's Gavin Price said "And out of about 500 emails we receive every week, probably about 499 of them are shouting Wii U! Wii U! As a games fan, I've been a Nintendo fanboy since the NES days. Most of are fans are Nintendo fans as well. So while we can't confirm what platforms we will be on - some of that is beyond our control - but we are developing on Unity and we don't want to leave anyone out. And we'd try to ship simultaneously to make the biggest splash possible when the game comes out."