Tending crops and wrangling Pikmin.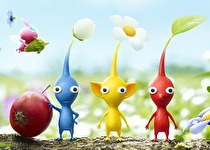 Did someone say, "biggest Wii U title of the fall?" Oh, you did? Why, yes, Pikmin 3 is going to be available this week! Along with Harvest Moon, Kirby's Dream Land 2 and Cloudberry Kingdom! Nintendo is stepping up their game once again and putting the hurt on your wallet, and I've never been happier about it. Let's be honest here, a week of ramen won't kill you, but another week without Pikmin just might.
3DS Retail Games
Disney Planes - $39.99, Available August 6
Wii U Retail Games
Pikmin 3 - $59.99, Available August 4

Disney Planes - $49.99, Available August 6
3DS eShop Games
If you like bikes and the riding of bikes then, boy, do I have a game for you! Collect gold coins, hop over penguins, and battle it out for the high score. Who doesn't like a nice relaxing bike ride? The game boasts a very simple control scheme: just jump. If you can't figure that one out you might want to put down the 3DS and seek medical attention.
Unfortunately Harvest Moon is only available on the Wii U, unless you want to play the inferior Game Boy Color version. So what's a handheld gamer to do? Well, My Farm 3D is here to (possibly) satisfy your handheld farming lust. Experience such thrilling features as: feeding your cows, feeding your chickens, and selling eggs.
Apparently there's a whole series of games with the Family title. Who knew? Eight karts, 12 tracks, multiple difficulty modes – if you're a fan of family-oriented kart racing games then this sounds like the title for you. If you prefer your kart racing more vicious, then you might want to look elsewhere; you'll scare the children.
3DS Virtual Console
Your favorite pink fluff ball is back for more platforming action! Heck, I don't even have a second favorite pink fluff ball, because Kirby takes up both spots in my heart. Something has happened to the seven Rainbow Bridges, and I have a good feeling as to who's responsible. Now, go find King DeDeDe and stuff that hammer down his throat.
Wii U eShop Games
Stand aside, Ninja Gaiden, there's a new contender for the title of Hardest Freaking Game Ever Made. The procedurally generated levels guarantee an infinite amount of hair-pulling platforming, and with multiplayer you can bring over someone you love to take part in the teeth-gnashing difficulty!
Wii U Virtual Console
Get ready to get your hands dirty with Harvest Moon! Get a farm, get a dog, and then get married in the game that launched the most successful farming-based Japanese RPG life-simulator franchise in the world. Yeah, it's a pretty niche market, but if you've never experienced finding virtual love, then now's your chance.