It's still technically in Wii U's launch window, but Rayman's Wii U debut is not coming out in 2012.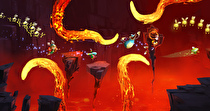 Rayman Legends, a Wii U exclusive sequel to Rayman Origins, is getting a slight delay to Q1 2013.
Ubisoft confirmed the news to Videogamer, saying the game will "launch worldwide in the first quarter of 2013."
"We're happy that fans are excited about the game, and we are taking the time to make sure we deliver a game that lives up to and hopefully exceeds their expectations," A Ubisoft representative explained. "We'll have more details to share soon."
Previously, Rayman Legends was set to be a launch title in Europe and a launch window title in North America. It was expected for, at worst, a December launch in both territories. Now, it is set for a release between January and March 2013.
Ubisoft currently has eight games announced for Wii U including Rayman Legends. Six of them, including ZombiU and Assassin's Creed III, are set for launch day. The other game, Marvel Avengers: Battle For Earth, is a launch window title.