Half of the time you'll be runnin' and jumpin', the other half touchin' and tappin'.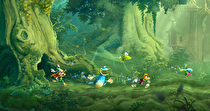 Less than 50 percent of Rayman Legends' stages will be focused on controlling the Murfy character with the GamePad. Ubisoft's Emile Morel revealed this during a demo at the recent Nintendo Wii U Preview Event. You can watch our demo session on video here.
When playing solo in these stages, the GamePad's touch screen is used to aid a computer-controlled Rayman by removing obstacles and creating pathways. In multiplayer, the GamePad wielder remains on touch screen duty, while the other players control the traditional platforming characters.
Rayman Legends is expected to be released alongside the Wii U on November 18.