And half of the musical levels will feature licensed music, such as "Black Betty", as performed by Rayman characters.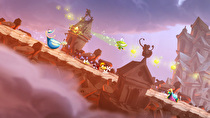 Rayman Legends, a the currently Wii U-exclusive sequel to Rayman Origins, will feature a variety of musical levels, to the tune of one per world, according to a comment from IGN's Rich George. Half of those songs will feature licensed music, too.
A trailer was also released that features a musical level using a Rayman-ified version of "Black Betty", a song that has been covered by numerous bands but is likely best known courtesy of the '70s rock group Ram Jam.
In case you didn't know, there were around 11 worlds in Rayman Origins last year, so that means we can look forward to somewhere in the ballpark of 10 musical levels, with five of them featuring licensed music.
Rayman Legends is slated to come out later this year as a Wii U exclusive (at least for now).