Lone players can still expect to be jumping and running most of the time.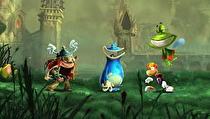 Rayman Legends will still be mostly played as a 2D platformer in single player with the occasional use of GamePad controls, a recent Nintendo Power preview revealed.
This news comes as clarification to Ubisoft's announcement last month that the game would be split approximately 50/50 between GamePad-leveraged stages, which purportedly put the AI in control of Rayman while the player uses the helper character Murfy, and traditional platforming levels.
However, it is now confirmed that levels that make use of the Wii U GamePad's features still allow the player to do the platforming the majority of the time, with the computer only taking over in specific moments where the GamePad is required to progress. The development team at Ubisoft Montpellier have made assurances that the AI performs flawlessly when it takes control during these sections.
The preview also shed light on several new gameplay details. As with the previous game in the series, Rayman Origins, Legends plays out within a world-based structure, but this time the areas are themed around tales or myths, such as Olympus and the Magic Beanstalk. Furthermore, some more songs for the game's special music levels were unveiled, including remixes of Survivor's 'Eye of the Tiger' and 'Woo Hoo' by The 5,6,7,8's, as well as original compositions by famed French musician Christophe Heral.