It looks like Nintendo's weird person-throwing Puzz Loop/Magnetica/Zuma-like game is coming to North America.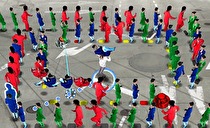 Tokyo Crash Mobs, a game featuring "pedestrian-tossing pandemonium," is coming to the North American 3DS eShop in early 2013.
The game, developed by Mitchell Corporation, is similar to Puzz Loop, Magnetica, and Zuma, but instead of colored balls, you throw people in colored suits. It takes places over three weeks of main characters Grace and Savannah's chaotic lives, and might be some weird meditation on how cutthroat business is.
There is no word on a European release date yet.