Download your 3DS favorites from the Nintendo eShop right now in Europe! North America? Wait two weeks.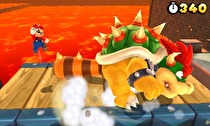 Super Mario 3D Land, Mario Kart 7, Star Fox 64 3D, and The Legend of Zelda: Ocarina of Time 3D are coming to the European and North American eShop. This was announced by Satoru Shibata, the president of Nintendo of Europe, and revealed in a North American press release.
In Europe, the four games are available right now for €44.99/£39.99 each. In North America, they will be available for $39.99 each on October 18.