The long awaited La-Mulana has finally arrived.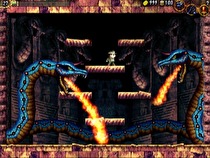 This week's Nintendo Downloads brings us the release of the long time coming La-Mulana, as well as a title each for the 3DS eShop and DSiWare service.
WiiWare Games:
La-Mulana - 1000 Wii Points
This game may have had a rocky past, but it has finally made its way to North America, courtesy of EnjoyUp Games. In this "archaeology action and exploration game" you will take control of Professor Lemeza as you explore temples, avoid traps, and solve puzzles.
3DS eShop Games:
Rising Board 3D - $2.99
In this endless runner (think NSMB2's cannon stages), you guide a surf boarding penguin with a penchant for collecting sun points and landing sweet tricks. Sound interesting? Our own Neal Ronaghan certainly thought so, read his review here.
THE "DENPA" MEN: They Came By Wave (demo version) - Free
Use your 3DS camera and search the real world around you for strange creatures known as Denpa Men. Once captured, build a party and take down your enemies in this dungeon RPG from Genius Sonority Inc.. The Japanese release of the demo allowed the player to carry over their save data to the full game, a feature we'll hopefully enjoy here. THE "DENPA" MEN: They Came By Wave will be released next week in the eShop for $9.99.
DSiWare Games:
Retro Pocket - $4.99
Retro Pocket tries to be one thing, very retro. Boasting retro visuals and sound design, Retro Pocket includes eight original LED-style games. Each of the games includes high scores as well as two different gameplay modes. If you pick up the game you can look forward to these games and more: Kung Fu Hero, Whale Escape, Mind Your Head, and Candy Factory.