Fire up your Wii, the indie-retro side-scroller appears to have finally found a publisher in America.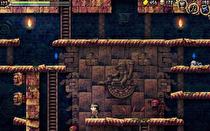 La-Mulana will arrive on the North American WiiWare shop on September 20, according to the game's profile listing on Nintendo's website.
However, it appears that it will be EnjoyUp! Games undertaking publishing duties in the west, not the WiiWare version's original publisher Nicalis. Nicalis announced in May that they had cancelled plans to bring the WiiWare indie title to both North America and Europe. However, a July posting on the website for the European PEGI ratings system suggested that EnjoyUp! Games was stepping in to bring it to those territories.
Nintendo's website lists La-Mulana with a price of 1000 Wii Points and an Everyone 10+ ESRB rating. The WiiWare version of La-Mulana was originally released in Japan in June 2011.