Renamed The Denpa Men: They Came By Wave, the RPG is hitting eShop on September 27.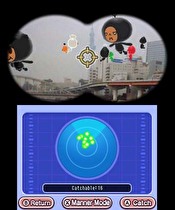 The Japanese eShop title Denpa Ningen no RPG is coming to North America on September 27 under the name The Denpa Men: They Came By Wave for $6.99.
The Denpa Men has you take control of Denpa Men (radio wave humans) in an attempt to save their world from the evil Devil King. The game makes heavy use of the AR functionality of the 3DS to search your immediate area to locate and capture more Denpa Men to aid you on your quest. Each Denpa Men (Denpa Man?) is unique in both looks and statistics.
The sequel, called Denpa Ningen no RPG 2, is coming to the Japanese eShop on September 26. There is no word on a European release yet.
For more information about The Denpa Men, feel free to read Danny's impressions of the Japanese version of the game.