The Pop Island developers sit down with us to talk about their 3DS debut.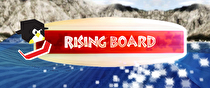 Odenis Studio is no stranger to Nintendo's downloadable platforms or their portables. The French developer, formed in the latter of the 2000s, has worked primarily on the DSiWare platform, bringing three games to the service. Their first game, Pop Island, was a surprisingly awesome capture-the-flag game that featured eight-player download play. They then released an even better follow-up to Pop Island, and Glory Days - Tactical Defense, a war-based tower defense-esque game using the same engine as Pop Island.
Now, Odenis is bringing their talents to the 3DS with Rising Board 3D, where you control a penguin who surfs. We caught up the studio's founder, Olivier Denis (ODenis, get it?) to talk about what exactly Rising Board 3D is and his plans for the 3DS eShop.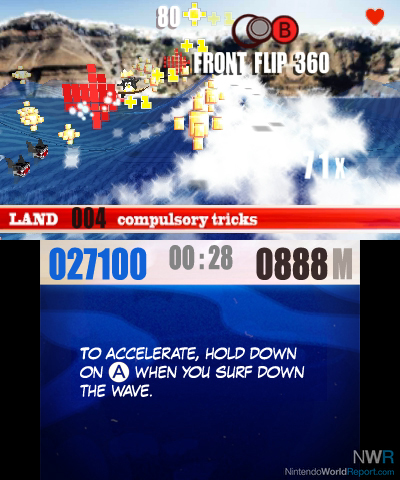 Nintendo World Report (NWR): What exactly is Rising Board 3D?
Olivier Denis (OD): Rising Board is a "Jump and Surf" game. I hope that we've succeeded in bringing something new to the table. We've focused on three aspects: controls, waves, and stereoscopic 3D.
The controls for the main character are, in our opinion, really good. You're controlling the balance of your board with the Circle Pad and quickly, it becomes natural and intuitive. For the knowledgeable folks, in some ways it could compared to Nights on the Sega Saturn.
The evolution of the waves gives this impression of living water, especially with the "Big Waves" events. It forces you to adapt your tricks and race.
And we have worked hard on the 3D effects. The main idea is to have something natural and comfortable. I'm very happy with the result and at 60 frame per second, it's fast!
We also added tons of collectables, bonus mini-games, and eight wakeboards to buy and upgrade. I have to insist that the eight wakeboards have their own control and style. It's not just a skin.
It's far from a one-button game. The fun of the game is about mastering your wakeboard and style amidst the chaos of the waves and the different power-ups.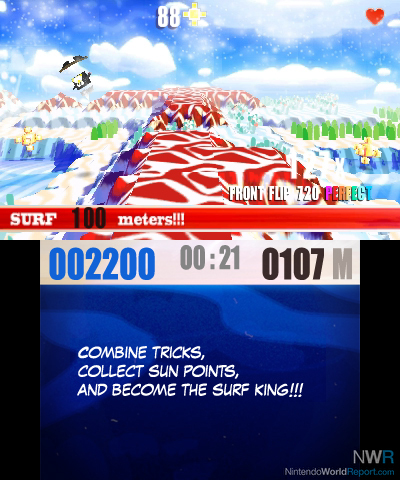 NWR: Why go with the surfing theme?
OD: The main character of our Pop Island games is Mika, the penguin surfer. I really like this character and I know from the beginning of Pop Island that one day, a game focused solely on Mika would be released.
To reinforce the game, the musician Raphael Gesqua created some new awesome tracks. It's aerian, epic, and intense. The music is an important aspect in all of our games, and for this one, we didn't have a space limitation; the tracks are in stereo with great compression quality. Take your headphone and I'm sure that you'll appreciate it.
NWR: Do you have plans for any future 3DS eShop games?
OD: Yes, a lot. Too much maybe for a small indie studio like us!
I would love to recreate a Glory Days 2 in 3D. I still appreciate this Nintendo DS game, which is a blend between some old games like Choplifter and Wings of Fury, and more recent games like Battlefield. And in the same time I have in mind a new game, which is now too confusing to speak about. But it's vibrant and wakes me up in the night.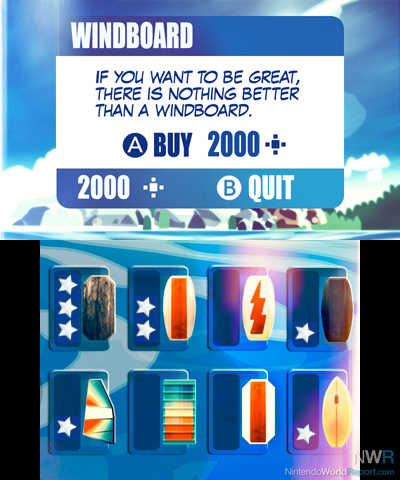 NWR: After the well-received Pop Island games, why did you take the gameplay style of your latest game into a new direction?
OD: Creating something new is alway a great experience. Remember that coming from the war universe of Glory Days 2, Pop Island was a revolution. At the end of the day, we received a very warm reception for it. (NWR gave it a 9.0!)
Rising Board is easier and is very influenced by Pop Island's aesthetic. It's colorful, fast, intense and messy. Concerning the Pop Island games, I'm not forgetting them. We have a running version of Pop Island on 3DS, but, and it's very important for us, each of our games should bring something new. On DSi, Pop Island had the magic secret sauce. It's NEVER easy to recreate that. I like the idea that Pop Island and Pop Island Paperfield will remain unique.
Let's see where we're at in a year, and after that, a lot of new ideas will likely start to rise. And a new Pop Island will be a "work in progress."
NWR: Has the usability of the 3DS eShop renewed any interest in your past DSiWare games?
OD: Yes, Pop Island is well featured on the eshop. And I have to say that it's great to play Pop Island with a 3DS thanks to the Circle Pad. Thanks to Nintendo, the eShop is a living thing.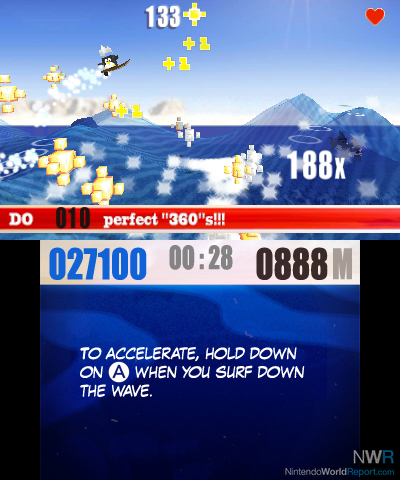 NWR: Do you have plans to work on other consoles?
OD: It's a big question. Our engine is running well on 3DS and iOS. I'm not fully satisfied with the iOS version so it's still in a dark box. Maybe forever. ;)
But I'm a Nintendo fan from long time ago now. Our first game was on Game Boy Advance! We will likely continue to work with their systems.
To conclude, I have to thank our friends at Neko Entertainment and the Nintendo teams. Both helped us a lot to develop this new game. It was far from easy to master this new console, and Rising Board 3D couldn't be released without their precious and kind help!
Thank you again Nintendo World Report and all of your readers to have this kind attention with our games. For us, it's not just games, it's our babies; it's living and we are always grateful to speak of them with people who care!