Go beyond the waves in this dungeon-crawling sequel.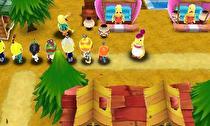 Denpa Men 2: Beyond the Waves is coming to the 3DS eShop on May 2, according to IGN.
The sequel to last fall's Denpa Men: They Came By Wave, Denpa Men 2 adds to the basic dungeon-crawling experience by adding an overworld, towns, and more. The towns feature all sorts of interaction, even fishing. It even adds a StreetPass mechanic where you have to StreetPass other players to light up a dungeon.
Much like the first one, a demo was made available prior to Denpa Men 2's release in Japan. This demo highlighted the first areas of the game, letting players explore dungeons, towns, and the sea. As of now, there is no word on the demo coming to North America, but it's likely it could hit next Thursday, which would be a week before the sequel's release.
Denpa Men 2, self-published by developer Genius Sonority, first came out in Japan last September, and as of right now, no European release has been announced. The first game hit Europe three months after the North American release.
See our screens of Denpa Men 2 for more details. If you're curious in the original, check out the demo on the eShop and our review.