It's official: Madden NFL 13 isn't coming to 3DS this year.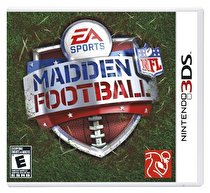 Following speculation, EA Sports confirmed to NWR today that Madden NFL 13 will not be coming to 3DS this year.
EA's official statement was short and to the point: "There will not be a new version for 3DS this year."
Madden NFL Football was a launch title for the 3DS in early 2011. It was built specifically for the system by EA's North Carolina studio. Madden NFL 13 is still coming to the Wii this year.